End User Submission
The EUS Data Collection system is the most widely used feature available on TowerCoverage.com. This is an add-on feature, free of charge to all premium users, to add on to your website integration. The data collection system changes your website integration to collect end user data. This would be end users that are viewing your webpage.


Keep in mind that the iframe contains a URL that is HTTP. If your site uses SSL, you can simply change this to HTTPS before adding the iframe to your site.
Instead of showing the coverage area with an address search bar, we will present a form to your end users. The text of this form is customizable under your account EUS settings page. Please see the account section for more detailed information. You can change the language, as well as the text that is displayed to the user.
Here the end user is asked to fill out a simple inquiry form. This form can be secured by using HTTPS if needed. The form allows end users to submit their contact information, as well as service address and any other questions directly to you. The first step is for end users to fill out some basic information.
Once the end user clicks submit. The system will geo-locate their address and display a satellite view of where we think that address is. Since geo-location services are not 100% accurate, the end user has the ability to zoom in and out to find their exact service location. By finding their building or home on the map and clicking it, they can move the pin to their exact service address. This provides us a much more accurate means of location. Then you can give exact GPS location to your installers, and allow us to find the best tower site possible for their service! Once the end user has moved the pin they will need to click to finish.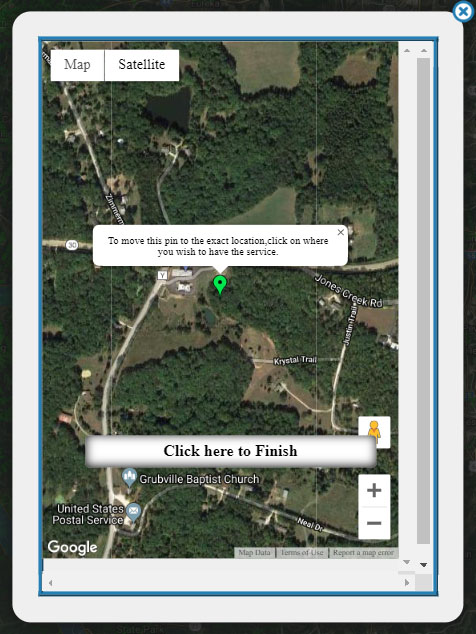 When the customer selects the "click here to finish" button, they will get a processing message. Once this is finished TowerCoverage will complete the process via your EUS Settings.
Options are included to display the user's location with the coverage shown just like the normal website integration. You can also add a custom message if you would like. Other options include redirecting the user to your own "thanks" URL, or simply giving them a message back, all within the iframe of your website.