Radio System
Radio System is a shortcut on the Coverage page you can use when creating your coverage map. TowerCoverage.com has included several "Complete" radio systems, as well as an option to create custom Radio Systems based on what you commonly use. A Radio System will include all of the transmitter site information, receiving station information and system performance values. When creating a new coverage, you can select one of your custom Radio Systems from drop down menu.
To create a new Radio System hover over Radio System and select New in the left side navigation bar.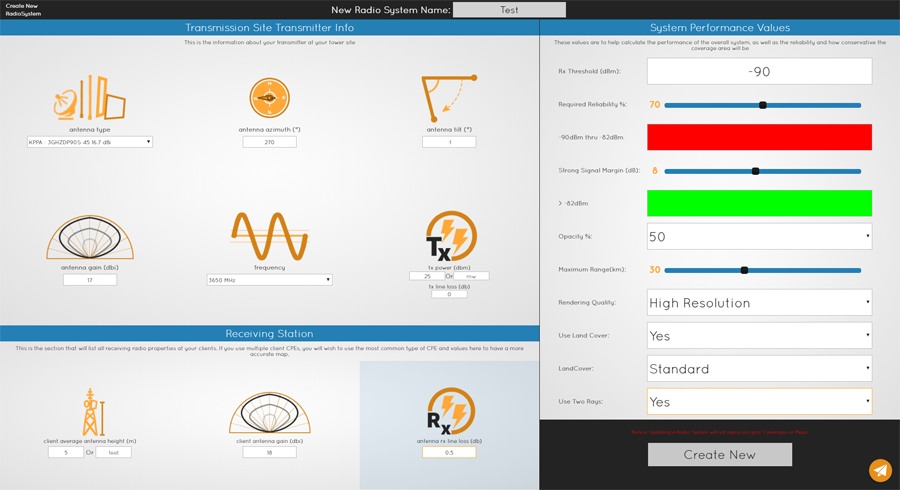 Once on the new Radio System page, you will need to name your new custom Radio System and then enter all of the default properties that you want that system to have. When you create a new coverage map, you can select this Radio System and all of its properties will automatically populate as you have set them here.
Note, once you create coverage you have the option to edit the coverage RF System and it will not affect the Radio System default properties that you set here. Also, each coverage you create stores its own radio system information in case you wish to make changes based on each coverage map, not all antennas with that Radio System.
Please note that every system will be slightly different; our best suggestion for the most accurate signal is to adjust this based on your actual signals. Find a client that has line-of-sight, and verify the radio settings, power levels etc. Then adjust the settings on your coverage or custom Radio System to get the most accurate results.



Once you have created a Radio System(s) when you click on the Radio System button, your custom Radio Systems will be listed. By clicking on the name of your Radio System you can view and edit that Radio System's default properties. Once you are done editing, save your changes by clicking on Update Radio System at the bottom of the Radio System page. You can also delete the Radio System by clicking on Delete Radio System at the bottom of the Radio System page.